Besides working out, I enjoy baking and experimenting with new recipes! I revamped this recipe to make it a healthier option. I used maple syrup instead of regular sugar or honey. The Sunflower Butter used is an all natural brand made from just roasted sunflower seeds and salt. Be aware of the brands that add oil or sugar. You'll get enough sweetness in these with the maple syrup.
The chick-peas in these are full of protein, fiber, folic acid and manganese. Therefore, they make these cookies a healthier option to reach for when you are craving something sweet. Higher in protein and fiber than your ordinary chocolate chip cookie. Such an easy and quick gluten-free and vegan treat.
These SunFlower Chocolate Chip Cookies came out great!! Let me know what you think… www.instagram.com/p/BgCeIK1F6av/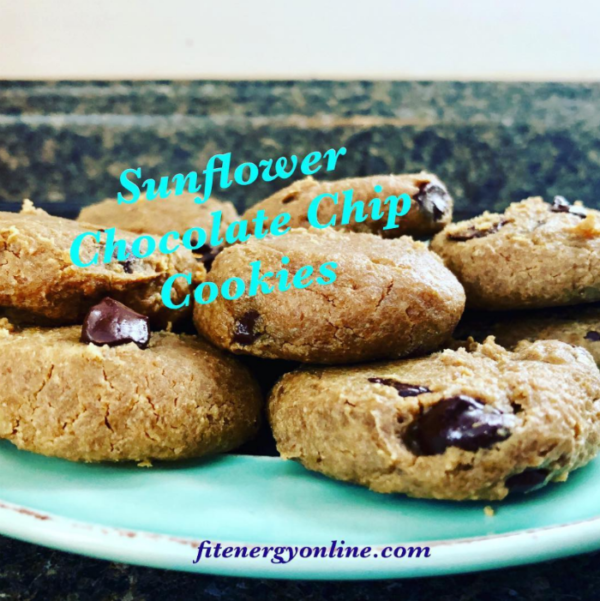 SunFlower Chocolate Chip Cookies Recipe
Ingredients
1- 1/4 cups canned chickpeas, rinsed and patted dry with a paper towel
2 teaspoons vanilla extract
1/2 cup + 2 tablespoons sunflower butter (or natural peanut butter or almond butter)
1/4 cup maple syrup
1 teaspoon baking powder
a pinch of salt if your sunflower butter doesn't have salt in it
1/2 cup vegan and dairy-free chocolate chips (I use Enjoy Life Dark Chocolate Morsels)
Directions:
Preheat your oven to 350°F. Combine all the ingredients, (except for the chocolate chips) in a food processor and process until very smooth. Make sure to scrape the sides and the top to get the little chunks of chickpeas and process again until they're combined.
Put in the chocolate chips and stir it if you can, or pulse it once or twice. The mixture will be very thick and sticky.
With dry hands, form into 1 1/2″ balls. Place onto a piece of parchment paper. Press down slightly on the balls to make them look like real cookies. They don't do much rising.
Bake for about 10 minutes. They will still be very soft when you take them out and do not set like normal cookies.
Store in an airtight container at room temperature or in the fridge for up to 1 week.
ENJOY!!