These healthy muffins an excellent choice for breakfast or a mid-morning snack. They are packed with protein and good fat. The texture is just a bit more dense than your regular muffin made from just flour. I used both almond meal/flour and an all-purpose gluten-free flour. Feel free to use just almond meal but be aware the texture will be even more dense.
To keep this recipe a vegan lover's choice, I used flax eggs (flax/chia blend) instead of regular eggs. Flax is rich in omega-3's and other healthy fats and is such a good choice when you are trying to incorporate clean foods into your meal plan.
These delicious muffins are also made with tahini. Tahini is another great source of healthy fats, protein, iron and calcium. It's tastes great too!
So if you are looking for a healthier Blueberry Muffin you've found it! They are a convenient choice when you are pressed for time in those early morning hours. Let me know what you think…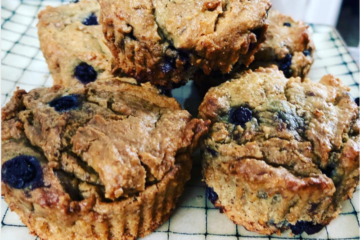 Blueberry Muffins (gluten free and vegan)
1 cup gluten free all-purpose flour
1 cup almond meal
2 flax eggs (or 2 regular eggs)
3/4 cup tahini
1/2 cup maple syrup
1 tablespoon vanilla extract
1/2 teaspoon baking soda
1/4 teaspoon sea salt
1 cup fresh or frozen blueberries
Preheat oven to 350F and line a muffin tin with 12 paper liners. Combine all the ingredients. (Except for the blueberries) and mix well.
Gently fold in the blueberries until they are spread throughout the batter. Drop batter into muffin liners (or greased tins) and bake for 30-35 minutes at 350F. The muffins should be a golden brown around the edges and firm in the center. Allow to cool in the pan for 10 minutes, then remove to cool completely.
* To make a flax egg: Mix one tablespoon of flax with 3 tablespoons of water…whisk and let sit a few minutes…you'll get an egg-like texture.