These great little bites of energy are delicious and full of fiber and protein. They are made with oats, flax, chocolate chips and crunchy peanut butter. Gluten free and vegan. Easy to make and no baking required. Perfect for a snack or grab a couple for breakfast on the go.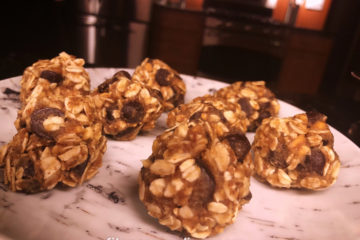 1 cup rolled oats
1/2 cup ground flaxseed meal
3/4 cup crunchy peanut butter (any crunchy nut butter will work)
1/2 cup chocolate chips (I use Enjoy Life Dark chocolate chips, as they are dairy free)
1/3 cup maple syrup
1 tsp vanilla extract
Mix all ingredients together in a bowl. Form into approx. 1″ balls using your hands. Place on a baking sheet and freeze until set about 1-1/2 hours. Enjoy and bask in the yumminess! Store in the fridge or freezer until they disappear. These can be consumed after 3 -5 min straight out of the freezer.