Pumpkin Spice Chocolate Chip Cookies
Hello Fall! With the leaves changing, cooler days and nights it's always nice to have healthier treat options. These Pumpkin Spice Chocolate Chip Cookies were fun to make. If you've already been following me, you know how much I love to bake and experiment in the kitchen with dairy free and gluten free deliciousness. These cookies are higher in protein and fiber than most as they are made with tahini, almond meal and a flax egg. Being mostly plant-based, these are a great little snack that satisfy the sweet tooth and that craving for pumpkin spice decadence. Hope you enjoy every little morsel as much as I did!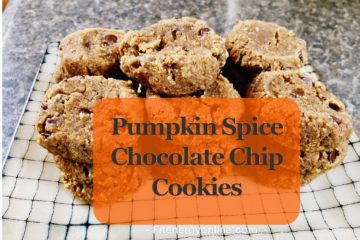 Ingredients
1/2 c. pumpkin puree
1/2 c. tahini
1/4 c. maple syrup
1 tsp vanilla
1 flax egg ( 1 Tbsp flax seed with 3 Tbsp water…I use a flax/chia blend)
1 Tbsp pumpkin pie spice
1 c. almond flour/almond meal
1/4 c. rice flour
2 Tbsp coconut flour
½ teaspoon baking soda
¼ teaspoon salt
1/2 c. chocolate chips – dairy free and gluten free (I use Enjoy Life brand)
Preheat your oven to 350°F. Combine the first 5 ingredients in a bowl and mix together until well blended. Then add the remaining ingredients (except the chocolate chips) the flours, baking soda and salt to the mixture. Blend well then stir in the chocolate chips.
With tablespoon form into 1″ balls. Place onto a piece of parchment paper or directly onto greased cookie sheet. Press down slightly with the back of a spoon to flatten a little bit. They don't do much rising. Bake for about 15 minutes. They will still be very soft when you take them out and do not set like normal cookies.
Store in an airtight container at room temperature or in the fridge for up to 1 week.
ENJOY!!